Donna Farmer, M.A., LPC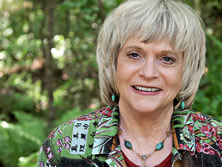 Donna T. Farmer has been in private practice in Mt. Pleasant, SC, since 1983, providing mental health services for adults and adolescents. She is a licensed Marriage and Family Therapist, an SC Board of Certified Counselor, and a National Board Certified Counselor; she is Board Certified with the American Psychotherapy Association.
Donna practiced with Carol Graf (Carol M. Graf, M.D., and Associates) who served as her supervisor and mentor for case management until her retirement in 2005. Although the office name was changed to Still Point, the same specialized services continue to be provided to our patients in a warm, safe, and professional environment with an individualized, holistic approach.
Donna currently provides services to adults of all ages who are dealing with depression, anxiety, life change/mid-life issues, PTSD, family, marital, and spiritual issues, same-sex issues, and caretaking of the terminally ill or elderly. Her work is eclectic; she draws on her extensive training in Depth Psychology, Dream Analysis, Conscious Living and Loving, Imago Theory, Intensive Experiential Growth and Learning Strategies, Spirituality and Health, and ADHD Organization and Communications. She also borrows from a multitude of marriage and family theories including psychodrama and Terry Real's Relational Life Therapy.
Prior to private practice, Donna worked for 10 years with the Department of Juvenile Justice in positions ranging from Social Worker to Director of Outpatient Offices and Services in the lower half of South Carolina; she also developed adjunct programs, including group homes, runaway shelters, and satellite offices to serve rural areas, as well as interdisciplinary mental health councils.
Donna is married to Charles Farmer and has lived in the Charleston area since 1970; she has 2 adult sons and 2 young grandchildren.